Current News «
Archived News «

Submit News «
Main
Staffs «
History «
Forums «
IRC Channels «
Network
Warzone2120 «

Links
Clans «
Links Board «

Submit sites «
Broken Link «
Warzone2100 Files
Download Index «

Game & Source «
Patches «
Playable Demo «
Tools & Editors «
Custom Maps «
Modifications «
Media Files «
Help Files «

Misc Files
MIRC Scripts «
Online Programs «
The Game
Reviews «
Features «
Storyline «
Credits «
PC Version
Screenshots «
System Req. «
Control List «
Cheat Codes «
Official Readme «


PS Version
PC Comparison «
Screenshots «
Control List «
Cheat Codes «


The Campaigns
The Project «
Enemy Forces «
Top Secrets «
Walkthroughs «
The Technology
Structures «
Defenses «
Pre-collapse «
Cyborgs «
Vehicle Designs «
Weapon Lists «
Online Play
Tips & Tricks «
Strategies «
Online Rules «
Newbie Guide «
Skirmish Game
The Computers «
The Tactics «


HTTP://TRUEBLUES.WARZONE2100.DE/
The Mod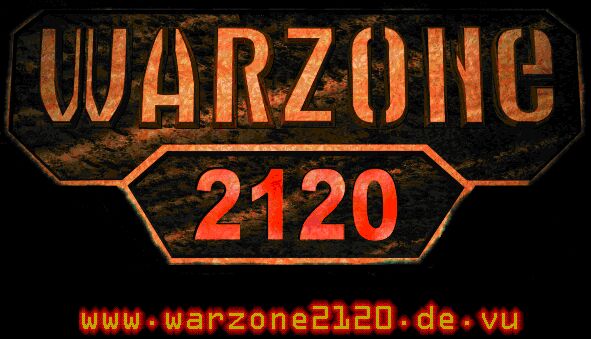 This was suppose to be a game by its own after Warzone 2100. Warzone 2120 is therefore the episode 2 of the Warzone series by Pumpkin Studios. However, this game never came out as Eidos decided to close Pumpkin Studios before this game can even be officially announced to the public.
For those who played Warzone 2100 campaigns, Nexus did not disappear after project destroyed its main base. The left over of the Nexus Intruder Program somehow copied and sent itself to somewhere via some vehicle and satellite in ruin. The threat of Nexus thus still exist!
You can visit the Warzone 2120 mod site @ www.warzone2120.de.vu for more information. Many story are made-up as Pumpkin Studios never release the official storyline of Warzone 2120.
Mod Development
This mod is currently under development by the Warzone2120 Mod team. Its going pretty slow perhaps the team is waiting for the Source Code to be release. However, they have release many cool maps (European Sector) for Warzone 2120 that work for Warzone 2100.
Release Date: Not known (was Summer 2004)
Development team: Kreuvf (Leader) / BotmanGT
Official Site: www.warzone2120.de.vu (Last updated on 24 May 2004)
IRC Channel: #warzone2100 @ Gamesurge

- Top -
» Coming Soon
» Poll Results
» Technical Issues
» Purchase Online
» Strategy Guide
» Official Support
The Source
» Original 1.10
» Dev Tree
New Developments
» Warzone 2120
» Total Warzone
» AI Boost
» KICK MOD



www.pumpkin.co.uk


www.warzone2100.com
Hit Counter:

statcounter.com
Another project by:



trueblues@warzone2100.de
Open Source
Pivotal Games have released Warzone2100 source code. It is released with no support provided, so use at your own risk. You can find download links for the source code @ Source code page.
-